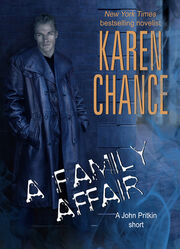 "A Family Affair"
{2011} — #4.1 in the
Cassandra Palmer series
by
Karen Chance
.
"A Family Affair" is a novella in the Cassandra Palmer series set between Curse the Dawn, Cassie Palmer #4, and Hunt the Moon, Cassie Palmer #5. It contains spoilers for Cassie Palmer books 1-4. The sequel is "Shadowland". It is designed primarily as an "added feature" to the series, and is intended for those already reading the books.
Synopsis / Summary
Edit
John Pritkin is a war mage pledged to protect the newest Pythia, Cassandra Palmer. He's also half-human and half-demon (an incubus to be precise). His father is Lord Rosier, ruler and master of all incubi. John hates him, and all other demons and as a result, he's become a most formidable demon hunter. Which makes it just peachy that Rosier's decided to pay his son a visit. What he wants is to make a deal. He'll leave Cassie alone (he hasn't in the past) if Pritkin traps an escaped ancient demon battle queen for him.
To keep Cassie safe, Pritkin enlists the help of Casanova, manager of Dante's (a hell themed casino in Vegas, and Cassie's current place of residence) and incubus-inhabited vampire. Basically, Casanova has got to keep Cassie out of trouble… or else. Which is a task that sounds far easier than it actually is.
Plot Points advancing the series story arc
Edit
Related Characters, Groups & Places
Edit
Characters:
Supes:
Groups & Organizations:
Places:
Next & Previous Books
Edit
See Also
Edit
External Links
Edit
Reviews:
General Links:
Ad blocker interference detected!
Wikia is a free-to-use site that makes money from advertising. We have a modified experience for viewers using ad blockers

Wikia is not accessible if you've made further modifications. Remove the custom ad blocker rule(s) and the page will load as expected.