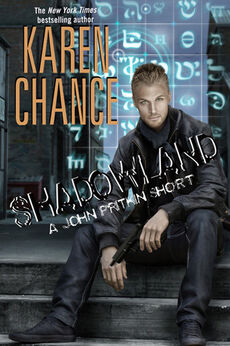 "Shadowland"
—
Cassandra Palmer series
#4.2
Synopsis
Edit
For the ebook of "Shadowland", go here.
"Shadowland" is a novella set between Curse the Dawn, Cassie Palmer #4, and Hunt the Moon, Cassie Palmer #5. It contains spoilers for Cassie Palmer books 1-4. It should be read after "A Family Affair", the first novella in the series, available here. ~ Take A Chance: Free Stories
Narrative Style
Edit
Third person narrative told mainly from John Pritkin's perspective.
Full Summary
Edit
When Shadowland first opens, John Pritkin is jogging down a Las Vegas street. John stops to pick up coffee and muffins from the coffee shop inside Dante's Casino where they dress in funky-punky monster-ish costumes and make-up to match the hell-theme. The counter girl seems to be scared to serve him. Cassanova appears and on the elevator ride up to Cassie's suite, starts rounding on John, insisting he take Cassie—who he views as a menace who is ruining his business—and move her out of the casino ASAP.
John gives Cassie her coffiee and a doughnut as they pass a pile of gifts—Cassie calls them "bribes." Protein said that "It's traditional for the leaders of the magical community to give the Pythia gifts on her accession,". Cassie believes "They figure they have to play nice until somebody kills me." She opens one and it explodes. John ends up with rebar in the calf of his right leg, Cassie missing and
Plot Points advancing the series story arc
Edit
World-Building: Characters, Groups, Supes, Places, etc.Edit
Characters:
Supe Elements:
[[
Demon Prince
Brimstone: doesn't extinguish until it had finished consuming whatever living flesh it encountered;
Groups & Organizations:
Places:
Shadowland
Dante's Casino
First Sentence
Edit
John turned off a side street onto Las Vegas Boulevard, the early morning sun already hot enough to soak his singlet in a dark line down the front.
Next & Previous Books
Edit
Next Companion Book: Masks #4.3 (2014)
Next Book: Hunt the Moon #5
Previous Book: Curse the Dawn (2009)
Previous Short: "A Family Affair" (2011
See Also
Edit
External Links
Edit
Links related to this book:
General links:* Cassandra Palmer series - Urban Fantasy Wiki