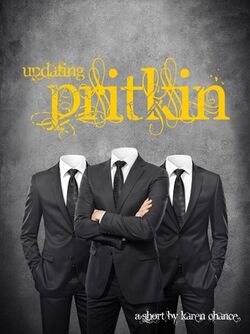 "Updating Pritkin"
(no date) —
Cassandra Palmer series
#5.5 (10 pages)
Synopsis
Edit
Full Summary
Edit
Plot Points advancing the series story arc
Edit
World-Building: Characters, Groups, Supes, Places, etc.Edit
Book Review: Karen Chance's "Updating Pritkin" | KD DID IT Takes on Books
Characters:
Supe Elements:
Groups & Organizations:
Places:
First Sentence
Edit
Next & Previous Books
Edit
Next Short:
Next Book:
Previous Book:
Previous Book (Cassie's World):
Book References
Edit
See Also
Edit
External Links
Edit
Links related to this book:
General links:* Cassandra Palmer series - Urban Fantasy Wiki
Ad blocker interference detected!
Wikia is a free-to-use site that makes money from advertising. We have a modified experience for viewers using ad blockers

Wikia is not accessible if you've made further modifications. Remove the custom ad blocker rule(s) and the page will load as expected.