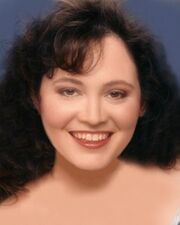 Karen Chance
Introduction
Edit
Karen Chance is the author of two New York Times bestselling series, plus a number of novellas and short stories, all set in the Cassandra Palmer universe. A full-time writer since 2008, she was previously a university history teacher, which comes in handy when writing the time-travel aspect of Cassie's crazy adventures. She loves Las Vegas, the main setting for her novels, but currently lives in Florida near her family home. ~ Goodreads
About the Author
Edit
Question 1: When did the Author first begin writing fiction?
She claims to have recently grown bored with the life of a jetsetting supermodel and to have decided to turn her hand to literary pursuits. Being loyal minions, we will refrain from comment. We can only say that, after an extended visit to Dante's excellent wine cellars, she proclaimed her new destiny to any who were not fast enough to get away. She currently entertains visions of a vast publishing empire a few times a month, but is normally better in the morning.
Question #2: Where was the Author born?
Little Devil. Although she frequently changes her story, we believe her real origins to be Orlando, Florida, the city of make-believe (which explains a good deal). We uncovered an old photo showing the Author, at age five, demonstrating her true nature by wearing the costume at left to a Halloween party at her school. Her very strict, church-run school. The fact that this attempt at humor was not well-received unfortunately failed to keep her from her current endeavors.
Question #3: What was the Author's education?
Being almost unbelievably lazy, she wasted many years pretending to study in a variety of universities, eventually hanging around long enough to obtain an advanced degree in history. We assume bribery was involved. Recently the aforementioned degree took the Author abroad, allowing us to breathe a collective sigh of relief. She spent two years in Hong Kong getting up to many no-doubt nefarious activities while purporting to teach. Our best wishes go out to her students. We can only hope the damage will not be permanent. — More: Take A Chance: Author
External Links
Edit
Author Pages: 
Commuity / Fan Sites:
Series Links & Reading Order:
Interviews:
Misc:
Ad blocker interference detected!
Wikia is a free-to-use site that makes money from advertising. We have a modified experience for viewers using ad blockers

Wikia is not accessible if you've made further modifications. Remove the custom ad blocker rule(s) and the page will load as expected.