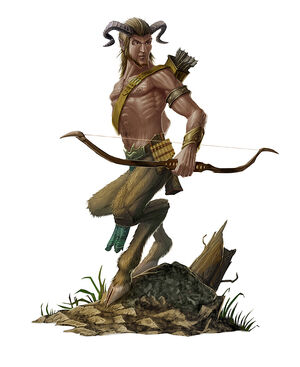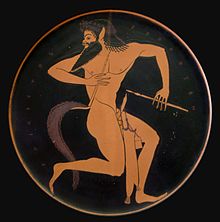 Satyr
Introduction
Edit
Satyr are half man (or woman) and half goat creatures, originally from Greek Myth. There are some Satyrs who work at Dante's Casino, primarily in the bar areas as they are associated with wine and drink and frollicking with women. 
Books Appears in
Edit
Supe Category
Edit
Appearance
Edit
Rudimentary horns that poked out of the satyr's mahogany curly hair
Fur-covered haunches and glossy black hooves
Satyrs are usually erect, especially when females are around.[1]
Character / Nature
Edit
Normal Habitat
Edit
Other Details
Edit
A Satyr's genitals are normally always at full attention.[7]
There is one that works at Dante's Casino as a bartender. ... In myths they are often associated with pipe-playing.
There are a group of Satyr-Were Hybrids working at Dante's.[8]
Dictionary Definition
Edit
One of a class of lustful, drunken woodland gods. In Greek art they were represented as a man with a horse's ears and tail, but in Roman representations as a man with a goat's ears, tail, legs, and horns.
Events in the Series
Edit
This section may have spoilers. Think of the book title as a "Spoiler Warning" if you haven't read it yet.
There is one who works in Pan's Flute. He took Cassie's order and went to get Jimmy, who had left.[9] Jimmy is part Satry and part Were-rat. 
The Graeae caused the Satyr bartender's genitals to go flaccid (they never go flaccid normally). [10]
Associated Characters, Groups, Places etc.
Edit
See Also
Edit
Book References
Edit
External Links
Edit
Ad blocker interference detected!
Wikia is a free-to-use site that makes money from advertising. We have a modified experience for viewers using ad blockers

Wikia is not accessible if you've made further modifications. Remove the custom ad blocker rule(s) and the page will load as expected.