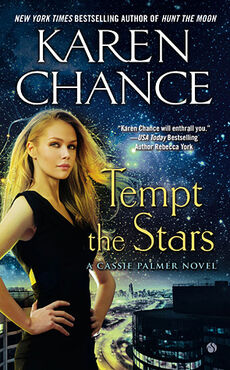 Tempt the Stars
(2013) — book #6 of the
Cassandra Palmer series
.
Brief Synopsis
Edit
From the book jacket for Tempt the Stars:
Being a goddess is a lot less fun than you might think. Especially when you're only a half goddess, and you only found out about it recently, and you still don't know what you're doing half the time. And when you've just used your not-so-reliable powers to burglarize the booby-trapped office of a vampire mob boss.
Yeah, that part sucks.
But that's just the tip of the iceberg for Cassandra Palmer, aka the Pythia, the freshly minted chief seer of the supernatural world. After all, Cassie still has to save a friend from a fate worse than death, deal with an increasingly possessive master vampire, and prevent a party of her own acolytes from unleashing a storm of fury upon the world. Totally just your average day at the office, right? ~ Take A Chance: Books ~ Tempt the Stars
Read the first two chapters of Tempt the Stars here. 
Full Summary
Edit

Write a Summary
World Descriptions
Edit
World-Building: Characters, Groups, Supes, Places, etc. Edit
Characters:Edit
Supe Elements & Glossary:Edit
Groups & Organizations:Edit
Plot Points Advancing the Series Story Arc (Spoiler alert)
Edit
Next & Previous Books
Edit
See Also
Edit
Book References
Edit
External Links
Edit
Links related to this book:
Q&As:
Reviews:
General links:
Ad blocker interference detected!
Wikia is a free-to-use site that makes money from advertising. We have a modified experience for viewers using ad blockers

Wikia is not accessible if you've made further modifications. Remove the custom ad blocker rule(s) and the page will load as expected.